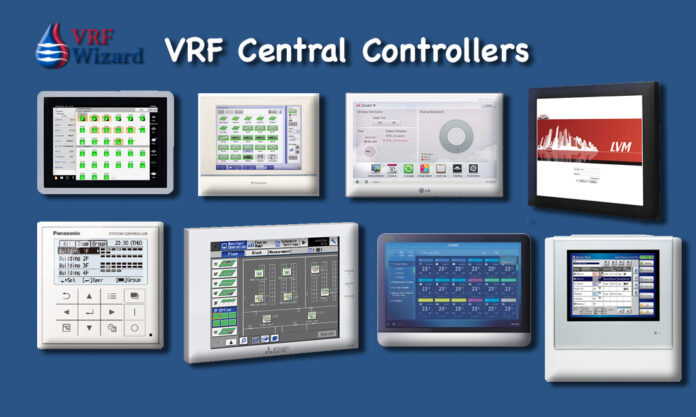 Find comparison on VRF System Central Controllers for all major manufactures. Daikin, Carrier, Toshiba, Panasonic, Mitsubishi, Trane, York, LG, Fujitsu, Lennox,
The following is a look at Touch Screen VRF Central Controllers that are available from the various VRF system manufactures. There are various other control schemes that can be employed to accomplish increased levels of monitoring and control at additional cost. These additional levels of control would include BACnet and similar protocols, in addition to the monitoring of the facilities non-VRF systems, such as lighting, boilers, security and other HVAC equipment. An additional BMS module would be required in most cases in order to connect the Touch Screen Controller to a BMS system.

Maximum Indoor Units on Main Controller
The size of your facility and the quantity of indoor units that you need to monitor from your VRF controller is dictated by the maximum allowable set by each VRF manufacture. Some VRF manufactures have adapters that allow you to expand this maximum even further; other VRF manufactures would require you to purchase another main controller.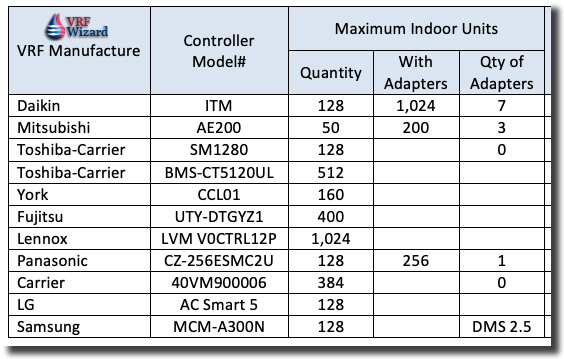 Multiple Indoor units can be operated by one controller and identified as a group within the central controller. Groups allow for easily scheduling or making operational changes to indoor units that belong to the same tenant, zone or other parameter. VRF central controllers will limit the quantity of groups available.
VRF Controller Display Size
If you're going to be viewing floor plans on the Display then you will probably want a larger screen size.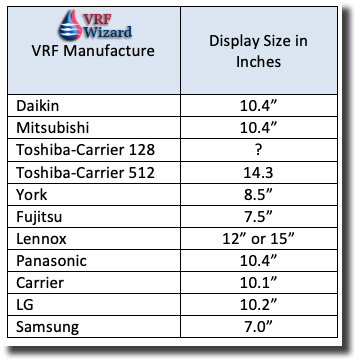 Prohibit Remote Controllers
This feature allows the prohibiting of certain functions or adjustments at the tenant level using the remote controller. Certain control settings can be prohibited from being adjusted such as temperature settings, fan speed, on/off, scheduling and others.
You can setup restricted adjustments and then disable/enable the restricted group of settings by changing the accessibility at the central controller. Some Indoor units can be locked out while others are freely adjustable by the tenant. Restrict a portion of the remote controls functionality or all of it.
---
Daikin VRV System Controller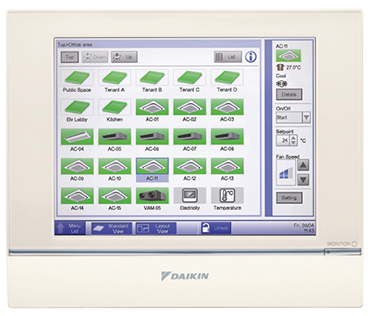 The Daikin VRV Touch Screen Central Controller (ITM Intelligent Touch Manager) comes with the following features:
Choice of 3 different screen savers.
Area and Group configuration
Area contains one (1) or more Area(s) or Group(s)
A Group may be an indoor unit, Di, Dio point that has a DIII-NET address
The Controller displays On/Off, Operation Mode, Setpoint, Space Temperature, Louver Position, Fan Speed for each Area or Group.
Displays date and day of the week along with the time of day
Adjust for daylight savings time (DST) automatically.
System status icons displays On/Off (color coded), Malfunction/Error (color coded), Forced Stop, Setback, Filter, Maintenance, and Screen Lock.
Display of temperature setpoint and room temperature information configurable for Fahrenheit or Celsius
Error status displayed in the event of system abnormality/error with one of three color coded icons placed over the indoor unit icon or lower task bar.
Error history stores up to 500,000 errors/abnormality events
Floor plan layout
Capable of displaying site floor plan as the background for visual navigation. Indoor unit, DIII-Net Di and Dio, and External Di, DO, and Ai icons with operational status can be placed on the floor layout
Up to 60 floor layout sections can be created
BACnet Client Option
Daikin VRV System Controller Submittal
Daikin Website: Daikin VRV System Controller
---
Mitsubishi VRF Controller AE-200A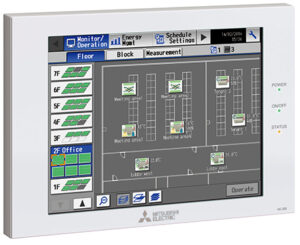 The Mitsubishi VRF Touch Screen Central Controller model #AE-200A comes with the following features:
Master controller operates 50 Indoor units with expansion controllers to increase to 200 Indoor units
Permits or prohibits remote controller functions. Emergency stops with optional component (PAC-YG10HA)
Pulse signal input can obtain watt-hour meter, billing data and emergency management data
Monitor and control indoor units, Lossnay, PWFY heat pumps, DIDO controllers, DOAS
Scheduling
Trend data
Memory backup via USB or LAN
Mitsubishi VRF System Controller AE-200A Submittal
Link to Website: Mitsubishi VRF Controller
Toshiba – Carrier VRF Controller SM1280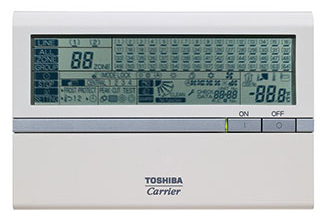 The Toshiba-Carrier VRF Touch Screen Central Controller model #BMS-SM1280 comes with the following features:
Maximum of 128 indoor units
Optional Energy meter (watt-hour)(requires PDI module)
Distance from SMART 5 Controller to farthest device shall not exceed 1,000m (3,280')
Adding I/O modules reduces the amount of devices or indoor units that can be attached to the central controller.
---
Toshiba – Carrier VRF Controller CT5120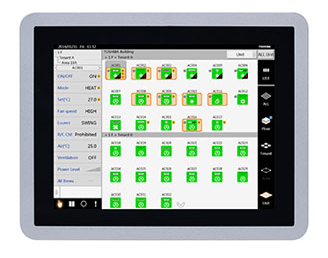 The Toshiba-Carrier VRF Touch Screen Central Controller model #BMS-CT5120 comes with the following features:
Grouping based on floor, unit, area, tenant and level
Operating Mode, Turning ON/OFF
Enable or disable local remote control
Master scheduler: weekly, 5 special days, monthly
Display alarm + provide history for alarms
Web browser monitoring and control (for intranet PC)
Up to 2 concurrent users can be connected
Additional digital I/O device available
Maximum of 512 indoor units per Touch Screen Controller
LCD Color display
Compact Flash Card
Two RS-485
DVD-R manual and Software
120VAC, 60 Hz (12V DC power adapter supplied)
USB port for service
Optional Energy Monitoring interface module
Optional Digital I/O interface module
Toshiba Carrier VRF Controller Owners Manual
Link to Website: Toshiba Carrier VRF Controller
---
Tenant Metering
The ability to track the electricity usage by each tenant provides for a convenient means of billing. Each tenant in a building may have hours of usage that differs from their neighbor. With tenant metering you can fairly charge each tenant according to the amount of electricity or for the time their air conditioners are running.
Scheduling
VRF Central Controllers allow for the operational scheduling of the various zones programmed into the system. It's imperative that you set up your zones according to usage, separating out rooms that run 24 hours a day or run on the weekend. This will allow certain zones to function after hours while the rest will shutoff to ensure energy efficient operation of the facility. A good way to waste money is to have your HVAC system running when the space is unoccupied.
Each VRF central controller will allow a limited amount of schedules that can be programmed into the system. Schedules can be given a name that corresponds to particular events or daily fluctuations in operating hours.
The quantity of events that are capable of being set for each schedule created is limited by the program. Setting events lets you control what happens at what time according to your programmed schedule. Each VRF manufactures central controller allows you to manipulate various set points and conditions based on your schedule, such as fan speed, setpoint shift, Temp setback points, pre-cool/pre-heat settings, Prohibit Changes, timer extensions, etc …
Features to look for:
Administrative Control

Graphical representation of schedule

Ability to exclude dates, such as holidays or weekends.

Quantity of schedules for a week

Quantity of events per schedule setting

Program the schedule by Area/Group/Zone

Automatic Schedule switchover based on Season
Mitsubishi VRF Central Controller Schedule: https://youtu.be/tGf-AljutLU
---
York VRF Controller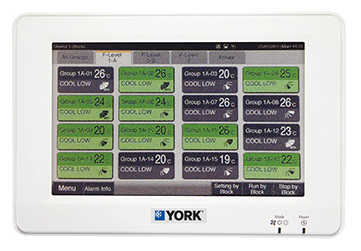 The York VRF Touch Screen Central Controller model #CCL01 comes with the following features:
Controls up to 32 groups of indoor units (maximum 160 units).
Independent cooling and heating setpoints.
Individual zone control with weekly programmable scheduling.
Basic central point on/off control of all units.
Advanced multi-zone control of small to medium sized projects.
Automatic cooling/heating changeover for heat pump systems.
Single batch input shutdown of all connected units.
Temperature setpoint range restrictions.
Link to Website: York VRF System Controller
---
Fujitsu VRF System Controller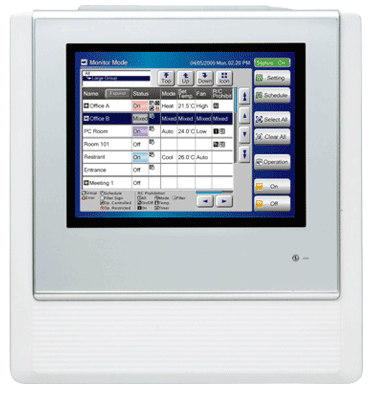 The Fujitsu VRF Touch Screen Central Controller model #UTY-DTGYZ1 comes with the following features:
Large-sized 7.5-inch TFT color
LCD Easy finger touch operation
Stylish shape and design to suit all application
No additional component is required for installation
Up to 400 indoor units can be controlled
Optional Electricity Meter
Selectable 2 display types (Icon / List) in monitoring mode Air conditioner can be monitored and controlled via LAN from PC.
Error contents are notified automatically by E-mail at error occurrence to handle the trouble promptly.
Fujitsu Website: Fujitsu VRF System Controller
---

Lennox VRF System Controller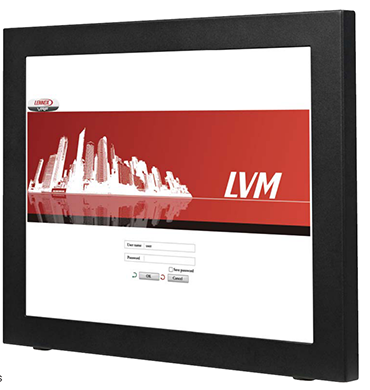 The Lennox VRF Touch Panel Central Controller (LVM V0CTRL12P) comes with the following features:
Display available in 12" or 15" (LVM V0CTRL15P)
Remote access via mobile and desktop devices
Scheduling
System Monitoring
Status history
Controls up to 1,024 indoor units
Controls up to 64 VRF systems
Controls up to 192 Outdoor units
Requires Router Switch & Additional LVM Hardware (V0CTRL85)
Lennox Website: Lennox VRF System Controller
---
Panasonic VRF Central Controller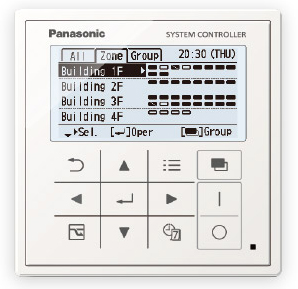 The Panasonic VRF Touch Screen Central Controller model #CZ-256ESMC2U comes with the following features:
Controls 128 Indoor units and up to 256 with added communication adapter
AC24 V, 60 Hz
Diagnostic History of System Past and Present
Provides Individual Tenant Billing data for 3 systems, additional systems are done by adding Communication Adapters. Requires watt hour meters
Individual Zone Override Feature (High/Low Settings)
The Panasonic VRF Central Controller can control unto 64 Indoor Units
Website: Panasonic VRF Central Controller
---
Carrier VRF Central Controller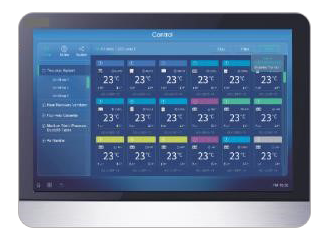 The Carrier VRF Touch Screen Central Controller model #40VM900006 provides the following features;
Ability to view floor plans
Automatically detect connected indoor units
Scheduling
1 Administrative & 384 user accounts
Alarm notification via email
Adjust fan speed, temp range
Error display
Clock
Carrier VRF Central Controller Website
Carrier VRF Central Controller Installation & Operations Manual
---
LG VRF System Controller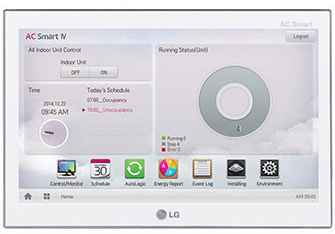 The LG Smart 5 VRF Central Controller comes with a wall mounting plate, manual and a SD Card. The SD card is used for data backup and recovery. The LG Smart 5 features a UX-compatible platform that works with a PC, smartphone or tablet. The LG Smart 5 contains the following:
10.2" LCD Touch Screen (C-Type Touch Panel)
Dual Core CPU
2 GB of Memory
16 GB of storage
Mono speakers
2-Port RS-485
SD Card (data backup & recovery)
Mini USB (for debugging software), Micro USB (for service)
Ethernet 10/100 BASE-T
DI (Digital Input) 2 Ports
DO (Digital Output) 2 Ports
12V Input Port, 24 V Input Port
Integrated BMS system interface
LG VRF System Controller Submittal
Website: LG VRF Central Controller
---
Samsung VRF Central Controller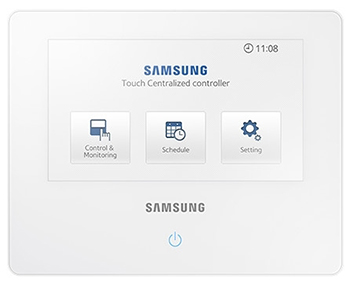 The Samsung VRF Touch Screen Central Controller model #MCM-A300N provides the following features;
7" LCD Touch Screen Controller
Maximum of 128 indoor units and Samsung ERV's
Allows creation of zones for indoor unit grouping (12 maximum) with customizable zone icons
SD card slot for data backup and future software updates
Scheduling (maximum 10 schedules)
RS485 communication
Control indoor operation of temperature , fan speed, advanced settings, usage, louver control
Restrict indoor unit control
Samsung VRF Central Controller Submittal
Samsung VRF Central Controller Design Software link
---
Operational Settings
VRF Central Controllers vary on their ability to control settings and functions. You can control one component or make global changes to all units using the VRF central controller. A password can be used to lock or allow certain changes to the settings based on what you would like the tenant to be able to change.
Features to look for:
Temperature settings
Temperature range restrictions (limit High & Low Settings)
Fan speed (typical high, medium & low)
Louver control (adjust direction of airflow)
Mode (Operational control of an attached component)(heating or cooling only)
Schedule
Controller use restrictions (Permit or Prohibit use of certain settings or functions)
On/Off of attached components
Language
Passwords (screen can be locked requiring a password)
Date and time (12 hour or 24 hour display)
Screen display brightness and backlight timeout functionality
Ability to move a device from one zone to another
Error codes and history of errors
Ability to import and display floor plans
Error detection notification via email
Interlock with non-VRF input devices (Motion sensor, CO2 sensor, Door entry key)
Emergency stop
Administrators and Users (maximum quantity of admins or users)
Control Wiring
VRF Central Controllers are wired to each component in the system in a daisy chain fashion. This is very efficient method of wiring that allows each component a pathway for the communication wiring to the central controller. If you need to expand the quantity above the allowable limits for the system than you would need to run separate wiring to each of the added adapters that help increase the capacity of the control system.
RS485 cabling is the most commonly used connective wiring as it allows for multiple devices to be connected together and allows for longer runs of cabling than the previous RS-232.
The capability to connect to a BACnet system or some other protocol should be available, sometimes as an add-on component.
Data Backup
There are various methods that the VRF manufactures use to allow data to be backed up and stored in case of power or system failure. Having a backup will save you hours of programming if such a failure occurs and you need to restore your settings. Backup can come in the way of storing the data on a hard drive, thumb drive, the cloud or on some form of Memory card. This may also be the method that the VRF manufacture using to update the system software.
Zone/Area Control
A zone is created by grouping various indoor units together under a common control setting scheme. Combining a group of indoor units that have similar thermal experiences and scheduling requirements will help save on individual programming. You can provide a name for each zone that you create, allowing for quicker recognition of various areas of your facility under control.
You can group indoor units according to the Outdoor Unit that feeds them in addition to the floor that the indoor unit resides on. See example below.
3rd Floor – ODU-1 – Indoor Unit (Room 345)
Floor Plan Display
A unique feature of the central controller is its ability to import and display floor plans. Having the ability to view the floor plan on the controllers LCD display with the indoor units displayed in the appropriate locations, allows for a quick graphical representation of the overall system layout. The indoor units are represented with icons that are interactive, allowing you to make adjustments to the settings for each unit with a quick touch of the screen. The auto detection feature of the VRF Central Controller will populate the system with individual icons for each indoor unit.
Mitsubishi Floor Plan Display: https://youtu.be/wa3OzxClvxU
Error Alerts
The VRF Central Controllers allow for email notification when an error occurs in the system. This allows for rapid response to get the error corrected and the system repaired if needed. The email notification allows for various alarms or errors to be directed to different email addresses. If there is an error with the Outdoor Unit, maybe you want two emails sent, one to the building engineer and another to the contractor that services the system. This would allow the contractor to be in route to fix the issue much faster. Error logs can show the history of alarms and what part of the system went into alarm.
Internet/Web Access
Some of the VRF Central Controllers can be viewed over the internet using the appropriate additional hardware in some cases, while others require only an IP address at the site for connection to the controller. Web access allows you to operate and make adjustments to the VRF central controller from a PC or MAC instead of having to be present at the touch screen.
Administrator and Users
The VRF Central Controller usually has two levels of access, one for administrators and another for general users. There is a maximum amount of general users that the system will allow, in addition there is a limit of how many of those users can access the system at the same time.
The administrator can access multiple building sites from an offsite location via the internet. For owners or property management companies that have multiple properties this makes oversight much easier.
Commissioning
With a VRF system, commissioning is critical to the proper operation of the system. Using a certified trained technician will improve your chances of having the system run as designed. Commissioning will ensure that the initial settings and calibrations are correct and everything is functioning as intended.
Most of the VRF central controls have a self-discovery feature that automatically recognizes any component that is connected properly to the system. This feature will automatically detect any indoor fan coil, outdoor unit or heat recovery box that is wired correctly to the central controller and powered electrically. You will need to run electrical power to energize the VRF central controller. Most VRF central controllers run on 120-240V, 50/60 Hz power
Summary
Having a VRF central controller makes sense if you have a lot of indoor units that you would like to control from a central location or remotely. Having the ability to see what is happening at each indoor unit and having the ability to adjust or lockout the adjustment of any of the settings provides better management of the energy consumption and usage of the air conditioning and heating system. Support this blog by using the following links for any Amazon purchases.
Daikin ITM: https://youtu.be/KD6fDSNMz-E
Additional Daikin ITM Video: https://youtu.be/sD3oYaPsRyA
Samsung: https://youtu.be/4S8Tw_5oTRc
Resources
Fujitsu VRF Central Controller