ZoomLock vs Brazed Fittings.
Which piping joint method is best for your project? There are several things to consider.
What materials are the structure constructed of, and what is the occupancy of the building? If it is a wood structure then creates a greater risk of using a flame when brazing piping joints. If the occupancy is a senior facility or some other occupancy type that would create additional risk due to the occupant's non-ambulatory ability or employees sensitivity to the byproducts of the brazing process.

Once you have considered the risk analysis based on occupancy and material structure type, then you can look at a cost analysis. The material for ZoomLock™ or other mechanical piping joints cost considerably more than the standard wrot copper brazed fitting.
ZoomLock™ is to be used only on copper to copper applications using either hard or soft copper. ZoomLock™ is a trademark of Parker Hannifin Corporation, the Sporlan Division. The technology is owned by RLS (a Berkshire Hathaway Company) and is licensed to Parker Hannifin.
HVAC Commercial vs Residential
The advantage may lean more towards the HVAC commercial and Industrial markets than that of residential. The HVAC commercial application provides more opportunities due to longer lengths of piping and the need for more fittings. With residential you might have 6 connections, two at the condenser, and two at the evaporator and another two if you're installing a drier or site glass. There are additional advantages to using the RLS or ZoomLock™ in both market sectors as discussed later.
Pressure Rating of ZoomLock™ Fittings
Are you concerned that the fittings won't standup to the increased pressures in a R410A system as compared to R22?
Rated at 700 psi / 48 bar
Minimum burst pressure of 2,100 psi / 145 bar
Maximum burst pressure of 3,000 psi / 207 bar

ZoomLock™ O-Rings
There is concern over the durability of the internal O-ring of the RLS or ZoomLock™ fitting. How many years will it last? Will it leak? What happens in a fire? Can you braze a failed ZoomLock™ fitting?
Temperature Rated -40 F to +300 F (-40 C to +149 C)
Material HNBR – Hydrogenated Nitrile Butadiene Rubber
Life of O-Ring – 30 years when used with the temperature & pressure ratings according to ZoomLock
Don't braze a fitting as this could cause the O-Ring to contaminate the system.
Just remember they use O-rings on the space shuttle and just about any type of military aircraft. If it's good enough for NASA, may be its good enough for a refrigerant fitting.

Smoke, Smell, Fire Watch & Burn Permits
When brazing in an enclosed area within a building you will need to be aware of the location of smoke detectors or deactivate them in some way to avoid setting off the annoying little screamers. In some commercial facilities the smell caused by brazing could raise concerns amongst the occupants, such as those with chemical sensitivities or within a senior living facility.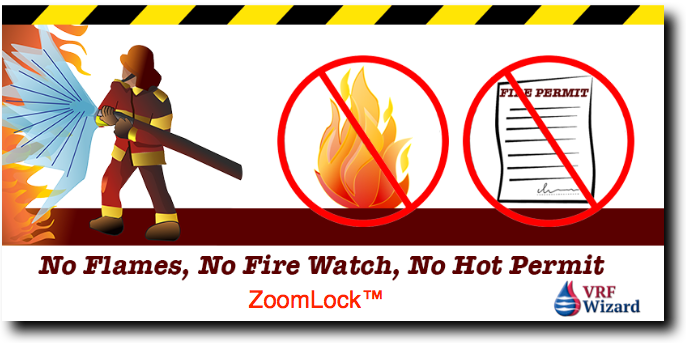 Also, if you have a flammable storage area or other rooms that contain materials easily ignited, a flameless application will work best. With the RLS or ZoomLock™ fittings you won't get any customer or employee complaints about smell.
Most jurisdiction and facilities require you to have a fire watch. This is an extra worker that must be trained on how to respond to a fire and understand the procedures and protocol in case of an emergency. This person is required to have a fire extinguisher on hand.
Agency Approvals
If you have a concern over whether or not theses fittings are accepted in your jurisdiction, then you should know that there is a good chance they are. The following certifications and agency approvals are usually adopted into most local codes in some form.
2015 IMC (International Mechanical Code)
2015 UMC (Uniform Mechanical Code)
2015 IRC (International Residential Code)
ASHRAE 15
UL 207, SA#33958, SDTW(7)(Except where noted)
CRN (Approved for couplings & 90 Degree Elbows)
Fitting Warranty
We're always concerned about the warranty, which is a good indication of the manufactures belief in their own manufacturing process and fitting. Currently ZoomLock™ offers a 5-year warranty with a full page of terms and conditions, read page 28 of their K-1 Catalog dated June 2017.
Vibration Concerns
What happens in an earthquake or when equipment vibrates? Can the fitting hold under such conditions? See UL109
Here is ZoomLocks response to the use of their fitting in a transportation application where the vibration level is high. "ZoomLock™ has gone through extensive vibration testing and results are actually better than that of a braze joint. Please review the vibration testing procedure and conclusion for more information."
Available Sizes of ZoomLock™ Fittings

Available ZoomLock™ Fittings
Couplings
90 Degree Long Radius Elbows
Tees
Reducers
Caps
SAE Flare
Y-Joints (Coming Soon)
45 Degree Elbows (Coming Soon)
P-Traps (Coming Soon)
Reducing Bushings (Coming Soon)
Crimp Tools
According to ZoomLock™ the tool has a red LED on the back of the tool that will blink for 20 seconds after a crimp. When this occurs, take the tool back to an authorized dealer to have the tool analyzed. They will be able to verify if the tool needs to be sent in for service.
Life of Jaws – 10,000 to 12,000 Crimps
Battery – 100 to 150 Crimps* (15 Minute Charging Time)(2.0 Ah)
Warranty – 24 Months from date of purchase (Verify with supplier)
Klauke 19 kN required for 1-3/8" size fittings
*According to ZoomLock™ you can get 100 to 150 Crimps depending on the sizes used. The system comes with two batteries, so this extends your capabilities up to between 200 to 300 crimps. Make sure you go to the jobsite with your batteries fully charged. The equivalent with brazing is that you will need to replenish your gases when depleted.
Crimp Tool Manufactures & Models
Klauke 15 kN MAP2LCER (J Series Jaw)
Klauke 19 kN MAP2L19 (KJ Series Jaw)
Ridgid RP 100-B (RJ Series Jaw)
Ridgid RP 200-B (RJ Series Jaw)
Ridgid RP 210-B (RJ Series Jaw)
What do you do if your HVAC unit ships with flared ends at the connection points? ZoomLock suggest that if you have at least two inches and room to fit the crimp tool, then cut off the flare and use their fitting.
ZoomLock™ Cost Analysis
ZoomLock claims on their site that the fitting only requires 10 seconds and can save up to 60% of your labor cost. See our post about ZoomLock Cost Analysis (Brazed versus Zoomlock).
You Can't Teach an Old Dog New Tricks
For those of you who are a little older and are stuck in your ways, changing to a new way of doing things is usually met with resistance. Maybe you still have VHS tapes or don't market your company on the internet. Using ZoomLock™ is changing the way the industry installs refrigerant piping, it's just a matter of time before it becomes more prevalent. Also checkout the SmartLock Fitting as it claims a 90% savings over brazed fittings.
Manufactures will keep investing in ways to reduce labor and make installations simpler in hopes of earning your money for doing so. When installed correctly you should have a satisfied customer, at least for 30 years, and by then there will be some other labor saving fitting or system that you can sell to replace the old one.
Resources
ZoomLock vs Brazed Fittings Breakeven Calculator
Checkout ASHRAE's Study on Mechanical Piping Joints
Happy Crimping!
Check out our article on ZoomLock Cost Analysis or our review of the ZoomLock Value Calculator. and our ZoomLock Klauke 19 kn Tool Review
Also checkout our article on the Lokring Pressfit fitting , SmartLock Fitting and the Reftekk Bendable Piping.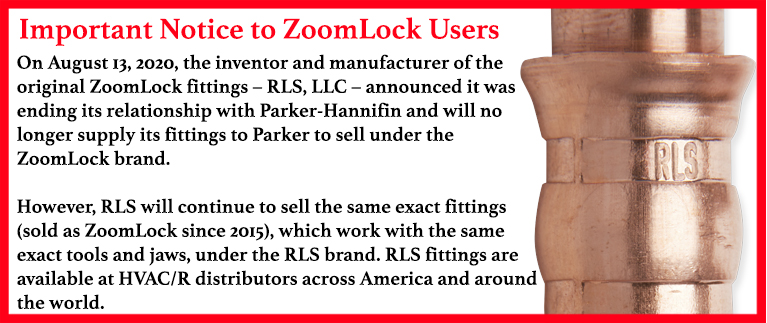 Important Notice for ZoomLock Users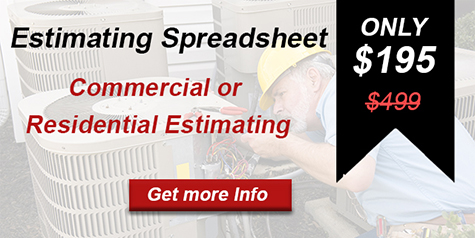 Sign Up For Our Newsletter to stay informed on the latest in VRF / VRV