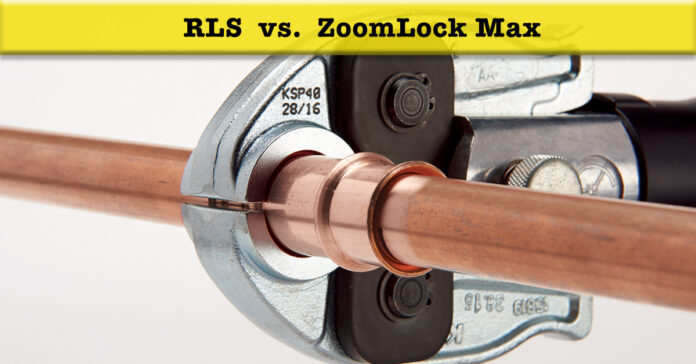 On August 13, 2020, the inventor and manufacturer of the original ZoomLock fittings – RLS, LLC – announced it was ending its relationship with Parker-Hannifin and will no longer supply its fittings to Parker to sell under the ZoomLock brand. However, RLS will continue to sell the same exact fittings (sold as ZoomLock since 2015), which work with the same exact tools and jaws, under the RLS brand. RLS fittings are available at HVAC/R distributors across America and around the world.
Again, RLS fittings are EXACTLY the same as the original ZoomLock fittings…same exact product in a different box. So they work with the existing tools and jaws. Bottom line, any contractor who was using ZoomLock doesn't need to change a thing. They just need to ask their distributor/supply house for RLS fittings. Most of the big distributors are now stocking RLS…FW Webb, United Refrigeration, Johnstone, etc.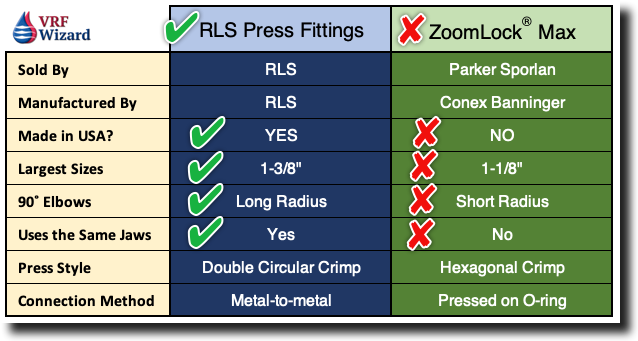 The differences are important if you consider where they product is manufactured. Especially in this current political environment where bringing manufacturing back to the USA is a campaign mantra for the two presidential candidates. RLS is manufactured in the USA, while the ZoomLock Max is made overseas.
Another important distinction is that the RLS fittings provide a wider range of sizes. The maximum size for the RLS fittings are 1-3/8", while the ZoomLock Max is limited to 1-1/8". Also, RLS has plans to expand their size range to include 1-5/8" and 2-1/8" fittings in the near future.
Having a long radius 90-Degree Elbow is important in ACR (Refrigerant) system to reduce pressure drop an avoid unnecessary energy consumption. The ZoomLock Max is only available in short radius 90-Degree Elbows, while the RLS 90-Degree Elbow is a long-radius elbow.
Can you use the same jaws that you have been using for the previous version of ZoomLock with the new ZoomLock Max? No, you will need to purchase new jaws as the press style is different. But don't worry about buying new jaws as the current tools and jaws used with the previous version of ZoomLock fittings works with the RLS fittings. This is because the previous ZoomLock fittings were manufactured by RLS, so there is no need to buy anything new, just remember to buy RLS fittings, not the ZoomLock Max fittings.
Also, note that the majority of the articles written on this site about the ZoomLock fitting is no longer pertinent to ZoomLock. ZoomLock Max is now manufactured by Conex, while the previous ZoomLock fittings were manufactured by RLS. Checkout RLS/Zoomlock products on Amazon. Here is a manual pressing tool that will save you money but requires a little more muscle.
Checkout the ZoomLock vs Brazed Breakeven Calculator. (Free for downloading)
See related articles.