VRF Piping Connections
There are several methods for joining refrigerant piping to VRF System components and fittings. The following mechanical VRF Piping connections can save labor but will cost extra in material.
ZoomLock™ by Parker
This is a mechanical joint that can be done quickly and without a flame. This is good when you have a lot of fittings in a wood structure or when labor rates are high. The fittings cost more than the standard wrot copper fitting, but you save on labor. Check out this video on how quick this joint is made.
https://youtu.be/enZ9YUL5uUw
Using ZoomLock™ allows you to make ACR refrigerant piping connections without brazing. This means less labor and no special permits or fire watch. ZoomLock™ claims that their HVAC contractors are stating a 40% to 60% savings on labor by eliminating the requirement to braze fittings and, that it only takes 10 seconds to make a pipe connection. Check out our two other articles on ZoomLock™
ZoomLock Rigid Pzk-Rj4 Pressing Jaw 1/4″ Size
ZoomLock Rigid Pzk-Rj6 Pressing Jaw 3/8″ Size
ZoomLock Rigid Pzk-Rj8 Pressing Jaw 1/2″ Size
ZoomLock Rigid Pzk-Rj12 Pressing Jaw 3/4″ Size
ZoomLock Rigid Pzk-Rj14 Pressing Jaw 7/8″ Size
ZoomLock™ is available in the following sizes: 1/4", 5/16", 3/8", 1/2", 5/8", 3/4", 7/8", 1-1/8"
Temperature Range: -40˚F to 300˚F (-40˚C to 148.9˚C)
Maximum Operating Pressure: 700 psi (48 bar)
ZoomLock Fittings 7/8″ to 5/8″ Reducers
Installation Instructions Manual: ZOOMLOCK Installation Instructions
Website: ZoomLock Website
ZOOMLOCK™ is a Trademark of Parker Hannifin Corporation
LOKRING by Vulkan
Another mechanical joint is the LokRing by Vulkan. This is a solder-free joint that saves on labor, but like the ZoomLock™, the fittings cost more than the standard wrot copper ones.
Using LokRing by Vulkan is another mechanical method of connecting ACR pipe and fittings in a refrigeration system.
Website: LokRing Website
Installation Instructions (English): LokRing Installation Manual
LOKRING™ is a Trademark of Vulkan
Refrigerant Piping Flares by Yellow Jacket
Flares are made with special tools that ensure you get the proper amount of the pipe flared so as to avoid leaks at the connections.
VRF Manufactured "Y" Fittings
Check to see if the VRF manufacture requires that you use a special fitting for the proper operation of their systems. Daikin has a Refnet fitting that is required for the system to perform as designed, so don't substitute a standard copper tee for their "Y" branch fitting.
Yellow Jacket 60278 Flaring Tool
Yellow Jacket 60295 Flaring Tool with Eccentric Cone for 3/16″ to 3/4″ O.D.
For those who are installing or have installed a VRF heat recovery system or other types of systems using the Refnet type fitting, there are some guidelines around how they get installed.
As with other system components, each manufacture has a different name for the same functional item. Just like the VRF branch selector boxes, the "Y" branch fitting has a different name based on the manufacture.


IWISS Copper Tube fittings Crimping tool with 1/2″,3/4″ and 1″ Jaw suits Viega ,MrPex, Apollo, Nibco, Propress, REMS, Elkhart, Conex copper pipe fittings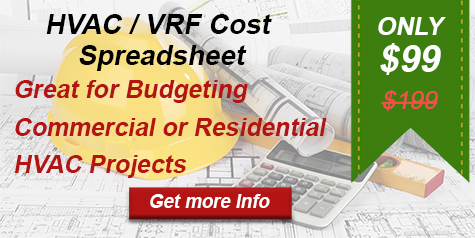 Leave us a comment below. What VRF piping connections do you use and prefer?