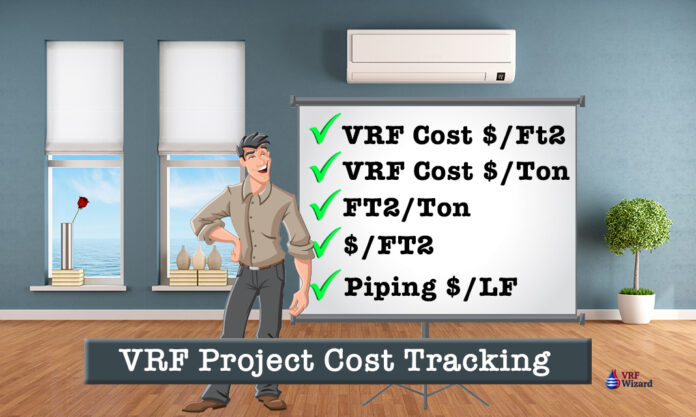 How Much does a VRF System Cost per Ton ($/Ton) or per Square Foot ($/Ft2)? How many Ft2/Ton should you figure? How much does the Electrical Cost per Indoor Unit ($/IDU)? Track all of these and MORE with the VRF Project Cost Tracker Spreadsheet.
Having a method to track the cost, engineering and installation metrics of a VRF/VRV Project will help you understand how to bid or budget these types of projects, along with what the typical project looks like. This VRF Project Cost Tracking Spreadsheet will help you understand the following and more:
How much a VRF System cost per ton
How much a VRF system cost per square foot
How many square feet per ton a typical project in your area has.
How much the VRF Equipment cost per ton.
How much your ACR Refrigerant piping cost per linear foot installed.
How many feet of piping can be installed in one man day.
Lots more….

VRF Cost per Ton ($/Ton)
We believe one of the best ways to measure the cost of a VRF or VRV System is to keep track of the Total Cost per Ton for the different types of systems and the various options that effect its variability in cost. If you need to budget a VRF project quickly, there is no better method, followed by cost per square feet.
The VRF Project Cost Tracker Spreadsheet tracks dozens of other useful cost and engineering data.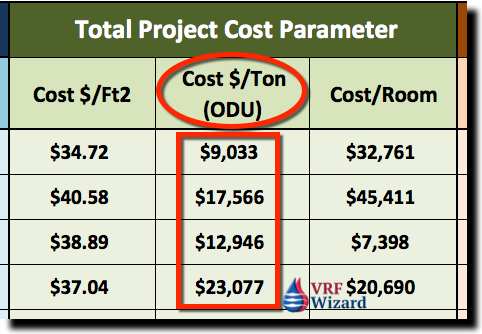 In the above example, the wide spectrum of cost per ton is due to the total scope performed under each of the different VRF projects. Some projects include the cost to provide a turn-key project, meaning you will do all work associated with the installation of the VRF system in addition to the mechanical scope. Under a turn-key retrofit project you may need to pour concrete pads for your outdoor units or build equipment pads on the roof, provide electrical, general construction, etc. This is defined in the scope section of the spreadsheet.
VRF Cost per Ft2 ($/Ft2)
Another useful parametric to track is the cost per square foot to install a VRF system. If you know the square footage of the area that is being provided with a new VRF System, then you can track how much it cost per square foot to furnish and install the system. The below example would have the same cost variables as explained above for additional scope items. These are just examples not actual project values.
VRF Equipment Cost per Ton ($/Ton)
Another important factor to track is the cost per ton for purchasing just the VRF/VRV Equipment. You will want to use a spreadsheet to track the variables. The VRF Project Cost Tracking spreadsheet should be sortable per those variables for quick reference when doing budgets or checking a current bid or before purchasing VRF equipment.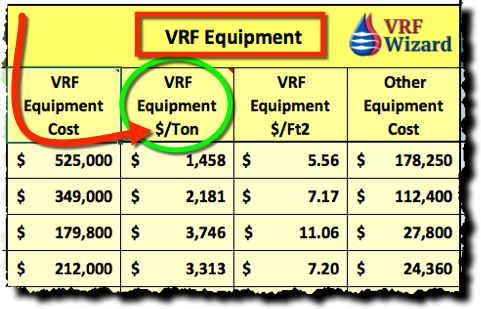 Using the above project as an example, if your quoted equipment from your vendor for your Heat Recovery System was $150,000, we can then determine what we are paying per ton for this equipment.
VRF Equipment Cost $150,000
Total ODU (Outdoor Unit) Tonnage = 50 Tons
Cost per Ton = $150,000 / 50 Tons = $3,000/Ton

ACR Refrigerant Piping
The total footage required for each project varies based on several factors. One of those factors is the system type. VRF Heat Recovery Systems require more piping than VRF Heat Pump Systems. Then you have 2-pipe versus 3-pipe systems that can affect the total footage on VRF Heat Recovery Systems.
Tracking the total footage will help you understand how the piping affects pricing. We like to look at Linear Foot/Indoor Unit. This will give you a quick reference to how much pipe various projects require and how any project you are currently considering will be affected. (LF/Indoor Unit)

Piping (Linear Foot / Man Day) (LF/MD)
Another factor to consider that impacts cost and which is indicative of the risk of labor, is the productivity factor used for the installation of the ACR piping. The conditions imposed on each project for the installation of the ACR piping is different and is reflected in the overall productivity parametric.
In its basic unit of measurement, piping can be expressed in how many feet of pipe can one man install in a day (Linear Feet per Man Day). This is not to say that the project will only have one piping installer, but is an expression of the overall productivity of the piping crew expressed in its simplest form.
For example, if you had 4 individuals installing a total of 400 feet of ACR Piping and it took them a combined 64 hours, then you could express the total productivity of the 4-person crew in the parametric 'Linear Feet per Man Day', with the following calculation;
400 Feet / 64 Hours * 8 Hours/Day = 50 Feet / Day or (50 Feet per Man Day) 50 Ft/MD
Piping – Type of Joint
Another factor that you might want to note is the type of joint used that effects productivity. Using a ZoomLock Fitting which avoids brazing can save upwards of 60% of your labor, but your materials will cost more. You could also use Reftekk, which is a piping solution that uses bending soft or bendable copper tubing in lieu of brazing fittings.
This system can save you on labor, but will require the investment of the proper tools including a Swage Expander and Copper Bending Machine, along with the purchasing of the correct type of copper piping. There is another mechanical joint that avoids brazing called LokRing.
HVAC Sheet Metal
How many pounds of sheet metal does one project have compared to another, this will help you adjust for the differences. If your project has mostly wall mounted indoor units, then you won't have much sheet metal ductwork.
If you're using a lot of the concealed ducted indoor units or have a ducted outside air system then your project will show a cost impact for sheet metal.
If your company has a sheet metal fabrication shop, then you can put the cost of material and shop hours, if not, then you can just put the cost to purchase the material. Either way you should get the total pounds of sheet metal to help you budget future projects. Knowing the sheet metal cost per pound whether you fabricate or purchase it, will help you understand your cost and use it for budgeting.


VRF Controls ($/Ft2)
All VRF/VRV Systems have some form of controls. Most of the VRF equipment is daisy-chained together with 16 or 18ga communication wire, while the main controllers require line voltage.
This section of the spreadsheet tracks the cost per square foot and cost per IDU (Indoor Unit) for the controls.

In addition to the VRF manufactures required wiring, the owner may have a requirement for BACnet capabilities or the ability to be controlled or viewed from their existing Building Automation system.
Total VRF Project Cost & Engineering Parameters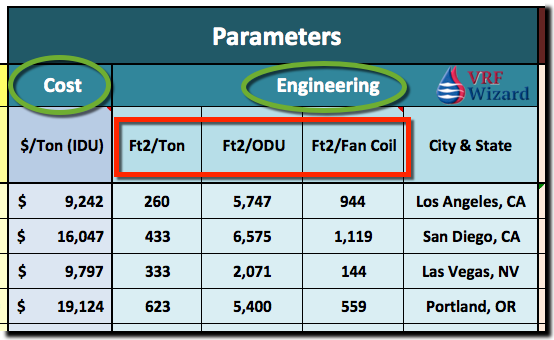 Ft2/Ton
Since you have been recording all the projects that you bid or are involved in, you have information on how many tons a certain type of building has per square feet. If the owner tells you he has a school in Los Angeles, California, then you can filter your spreadsheet for schools and determine from past projects approximately how many square foot per ton is required.
This isn't scientific, but with experience and some handy data you can make an educated decision on the best Ft2/Ton value to use for your project. You can qualify your budget being based on a certain Ft2/Ton, and if the cooling calculations later determine something different, you'll adjust your budget accordingly.
Ft2/Outdoor Unit (ODU)
This is an interesting parameter, as it measures how many square feet the design covers per Outdoor unit.
Ft2/Indoor Unit
This is an interesting parameter, as it measures how many square feet the design covers per Indoor unit.

VRF Project Bid Results
Keeping track of the winning bid, will help you stay abreast of market values.
How much did the project sell for?
How much per ton or per square foot did it sell for compared to what you figured?

Scope Included
The VRF Project Cost Tracking Spreadsheet will help you quickly sort for projects that are similar in scope to the one you may need to budget or bid. Just check the boxes for the scope included. Everything from Sheet Metal, Piping, Electrical, Controls, Plumbing, General Construction, Engineering and if the project is for Retrofit or NEW Construction. This section

VRF Manufacture
Knowing the manufacture allows you to quickly sort for all the projects containing Mitsubishi, Daikin, LG, Fujitsu, Carrier, or any of the others.
System Type
Tracking the type of VRF systems, whether Heat Recovery or Heat Pump is important as they one has more components then the other which effects cost.
General Construction
Some renovation projects may require the mechanical contractor to provide a turn-key proposal. This is a proposal that covers the cost of all trades and services to complete the full scope of work required to install a new VRF/VRV system. This work will often require you to pour concrete pads for the outdoor units, remove and replace ceilings to hang indoor units, paint walls, etc.
VRF Project Information
This section tracks the Project Name, Sales Price or Bid Price, Gross Margin %, FT2, Building Type & Quantity of Rooms.

VRF Equipment Cost Variables
System Diversity Factor
Tracking Diversity Factor will help indicate between projects being compared whether one has a greater diversity factor. This would indicate that one project has more Indoor Unit Tons to Outdoor Unit Tons then the other. Diversity allows you to use less Outdoor Unit Tonnage then Indoor because not all of your Indoor Units will require cooling or heating at the same time. Each zone or Indoor Unit will have a different time of month and day at which they will hit their peak load.
Tracking the quantity of main controllers and adapters or other control components that increase the cost of one project compared to another. One project may require more controllers and the capability to connect to an existing or new BAS system with BACnet capabilities.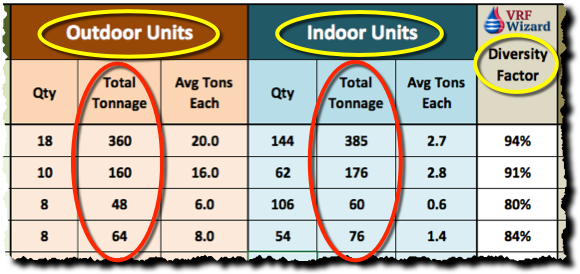 Diversity Factor
This factor indicates the capacity of the Outdoor Units to the Indoor Units. A percentage below 100%, indicates that the Total Tonnage of the Outdoor Units is less than the total tonnage of the Indoor Units. The reason that the Outdoor Units usually total less that the total of all the Indoor units is because that the Indoor Units are sized for their PEAK LOADS. The diversity factor indicates that the Indoor Units will not all peak at the same time, so there is no need to size the Outdoor Units to handle the peak load. The Outdoor Units are sized to handle the block load.
Budgeting with the VRF Project Cost Tracker Spreadsheet
Below is an example on how you can quickly budget a VRF project using the VRF Project Cost Tracking Spreadsheet.
EXAMPLE #1
Information Given: 30,000 Ft2 Office, Single Story
STEP #1 (Determine Tonnage)
Determine Tonnage Using VRF Project Cost Tracker Spreadsheet (Engineering Data);
30,000 Ft2 / (500Ft2/Ton) = 60 Tons
STEP #2 (Determine Cost based on $/Ton)
Determine Sells Price using the VRF Project Cost Tracker Spreadsheet;
60 Tons x $15,000/Ton = $900,000
STEP #3 (Determine Cost based on $/Ft2)
Determine Sells Price using the VRF Project Cost Tracker Spreadsheet;
30,000 Ft2 x $29/Ft2 = $870,000
Price Range $870,000 to $900,000
When you keep track of all the information in a VRF spreadsheet, doing budgets and checking bid prices becomes a quick and easy task, saving you time and money. The examples here are simplified, as you would make sure the values you use match the comparable project as close as possible.
The above are just examples are not to be used for actual project pricing.
Who is this VRF Project Cost Spreadsheet for?
If you are a Contractor, Engineer, Distributor or Consultant that has anything to do with VRF/VRV system, then this spreadsheet is for you. By keeping track of the various cost that impacts a VRF/VRV project you will be able to provide quick budgets, do sanity checks for current VRF project proposals, track the cost per ton of VRF equipment and compare the variables that effect these projects.
How do you quickly Budget VRF Projects?
How do you track VRF Project cost and engineering parameters?
Get YOUR VRF Spreadsheet Now >>> VRF Project Cost Tracking Spreadsheet.
Currently only $249.00 $149.00