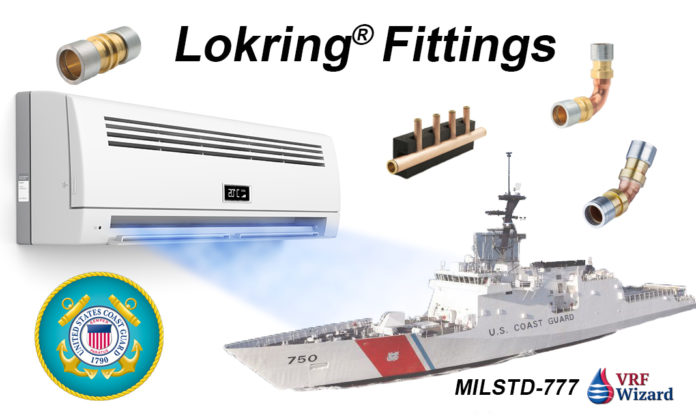 The LOKRING fitting is a Pressfit fitting used for many applications within many industries. We will be looking at the LOKRING for its potential use with refrigerants in the VRF/VRV industry.
(Click here to Enlarge Lokring Infographic)

Share this Image On Your Site
US Coast Guard Approved
The LOKRING tube connectors have been approved for use by the US Coast Guard to repair the refrigeration and air conditioning systems on the Coast Guard vessels. The LOKRING fitting meets military standards MILSTD-777.
If it meets the US Coast Guards standard for the repair of their refrigeration and air conditioning systems aboard their vessels, then you might trust it in your project.
Lokring claims the following air conditioning manufactures as users of their LOKRING fitting, Hitachi, Samsung, LG & Mitsubishi.
Lokring Fitting Labor Savings
The Lokring Fitting claims a 40% Labor savings with the same benefits as other Pressfit type joints. There is no Flame, Fire Watch or Burn permit required, no nitrogen purge and the benefit of using non-skilled workers.
There are three pieces to make a joint.
Joint Qty=1
LOKRING Qty=2
Stabilization Qty=2
Compare this to the ZoomLock fitting which only requires one piece to make a Pressfit joint. Also, the ZoomLock Fitting claims a 60% or greater savings on their joining system, and the SmartLock fitting which claims a 90% savings over brazed fittings. There is another piping connection system called RefTekk that claims to reduce brazed connections by up to 75%..
Temperature Range -58F up to 302F (-50C up to 150C)
Lokring Fitting Size Range
1/4" to 1-3/8" (6 to 35mm) 1/4", 5/16", 3/8", 1/2", 5/8", 3/4", 7/8", 1", 1-1/8", 1-3/8" (6mm, 6.35mm, 8mm, 9.53mm, 10mm, 12mm, 12.7mm, 15mm, 16mm, 18mm, 19mm, 22mm, 25.4mm, 28mm, 28.6mm, 35mm)
Lokring Fittings Available
Straight Brass Connectors (Couplings), 90 Elbows, 45 Elbows, Reducers, Tee's, Reducing Adapters, Connector with Schrader Valve, Euro Flare Fitting, YP Branches, T-Branches, Headers, Stoppers (End Caps), Ball Valves with Schrader Valves
Also available are Heat Shrink Sleeves with Hotmelt Adhesive for corrosive environments, such as experienced by the US Coast Guard vessels.
Maximum Operating Pressure 1,088 psi (75 bar)
Checkout ASHRAE's Study on Mechanical Piping Joints
The direct competitor of Lokring is ZoomLock or SmartLock which are covered in the following articles;
Video of the LOKRING by Vulkan
Website: LokRing Website
Installation Instructions (English): LokRing Installation Manual
LOKRING™ is a Trademark of Vulkan