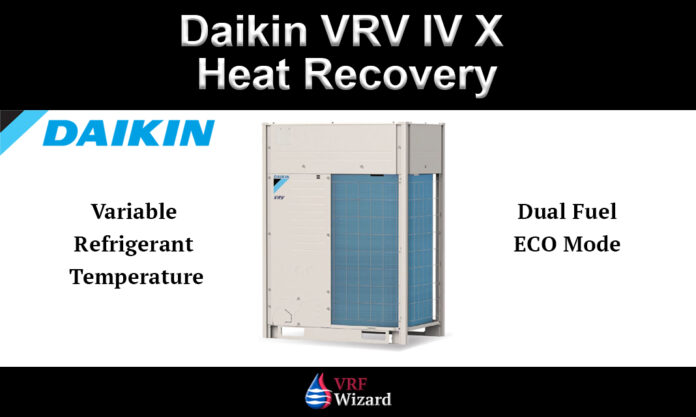 Daikin now has available a Dual Fuel, 3-phase variable refrigerant flow system. Daikin made it adaptable to the North American market with its ability to integrate with the ubiquitous gas furnace. For heating Daikin gives you the choice of using electricity (heat pump) or a gas furnace. This allows a customer to switch between electric or gas heating depending on the cost of utilities.
The Daikin VRV IV X connects with their 80%, 96% and 97% AFUE gas furnaces (available from 60,000 Btu up to 120,000 Btu) using the CXTQ coils (Available In 2, 3, 4 & 5 Tons). The Daikin system allows you to connect multiple gas furnaces to a single outdoor unit. Switch from heat pump (electric) to gas heat with customizable changeover temperatures.

Phased Installation
The Daikin IV X was designed with the phasing of projects in mind. The capability to add indoor and outdoor units as the project gets built-out provides flexibility for multi-tenant phased projects. Also, initial capital investments can be reduced until future tenant spaces are leased and additional capacity is required. Starting with one outdoor unit you can expand to a dual system than to a triple outdoor module configuration as indoor units are added to serve the required tenant buildout.
Variable Refrigerant Temperature
Using the Variable Refrigerant TEMPERATURE system design you benefit with increased annual energy efficiency and comfort. This is done by optimizing the compressor speed using automated adjustments to the temperature difference of the evaporator temperature (in cooling) and condensing temperature (in heating) with the condensing temperature and the evaporation temperature, respectively. The compressor works less, so you save more energy.

In ECO mode the Daikin IV X is optimized for energy efficiency and with each progressively faster mode of operation the temperature reaction time increases to keep the room set-point temperature.
The outdoor units come in sizes from 6 tons (1 module) up to 38 tons (3 modules) with the use of various indoor unit types. The indoor units come in capacities from 1/2 ton up to 8 tons.
For more information visit Daikin's website.
.